Learn how social anxiety develops and how it
gets perpetuated over time.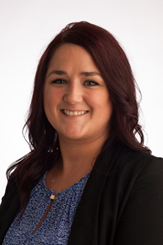 Presenter:
Becky Martin, MS, LCPC
NSAC Chicago

Becky has several years of experience treating social anxiety in both group and individual settings at CARD: The Depression and Anxiety Specialty Clinic of Chicago (NSAC Chicago). She has also led several trainings for other therapists including ones on treating social anxiety with cognitive-behavioral therapy (CBT). In addition to social anxiety, Becky has extensive training in CBT for insomnia as well as Radically Open Dialectical Behavior Therapy to treat issues like perfectionism and rigidity. Becky's approach to therapy is to try and understand each unique individual she works with in order to help them lean into and learn from their own experiences and live more fully. She is passionate about helping people find genuine connection and make meaning in all areas of their lives.
This video was produced by Thrive360, in collaboration with the National Social Anxiety Center (NSAC). Learn more about Thrive360 and their expansive library of self-help video sessions on a wide variety of mental health topics here:
Thrive360.com
. All their video sessions are available in both 2D and virtual reality 3D formats.
Thrive360 is an employee wellness benefit that really works. Thrive360 provides a private, powerful mental and emotional health break anytime, anywhere. Choose from a wide range of immersive sessions and programs — developed and presented by practicing health professionals and topic experts — to help you manage life's challenges. Whether it's dealing with anxiety or stress, losing weight, creating healthy habits, coping with change or other life issues, Thrive360 is here to help on your smartphone, tablet, computer or VR headset 24/7. Plus, using Thrive360 is effective, convenient and entirely private.