Learn how to modify your distorted thinking about socially anxious situations with realistic and helpful responses.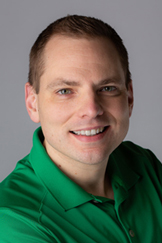 Presenter:
Zach Pacha, LISW, A-CBT
NSAC Des Moines

Zach Pacha is a licensed independent social worker (LISW) who has been practicing therapy for over 13 years. Mr. Pacha has a diverse background of working in several different outpatient clinics, including community mental health for 7 years. From these experiences he has learned and continues to strive for excellence in providing the best evidence-based treatment possible. Some of the accolades Mr. Pacha is most proud of are: becoming a clinical fellow of the Anxiety and Depression Association of America, founding the regional clinic in Des Moines for the National Social Anxiety Center, completion of the International OCD foundation Behavior Therapy Training Institute (BTTI) for the treatment of adult OCD, and earning Diplomate designation of the Academy of Cognitive and Behavior Therapies (A-CBT).
This video was produced by Thrive360, in collaboration with the National Social Anxiety Center (NSAC). Learn more about Thrive360 and their expansive library of self-help video sessions on a wide variety of mental health topics here:
Thrive360.com
. All their video sessions are available in both 2D and virtual reality 3D formats.
Thrive360 is an employee wellness benefit that really works. Thrive360 provides a private, powerful mental and emotional health break anytime, anywhere. Choose from a wide range of immersive sessions and programs — developed and presented by practicing health professionals and topic experts — to help you manage life's challenges. Whether it's dealing with anxiety or stress, losing weight, creating healthy habits, coping with change or other life issues, Thrive360 is here to help on your smartphone, tablet, computer or VR headset 24/7. Plus, using Thrive360 is effective, convenient and entirely private.