Qualifications & Benefits
Being a Regional Clinic of the National Social Anxiety Center is an honor, as it is recognition that the clinic provides high-quality evidence-based treatment for social anxiety disorder. NSAC regional clinics range greatly in size: from solo practitioners to large clinics with multiple offices and many clinicians. Regardless of size, all of our clinics follow the evidence-based protocols proven effective in social anxiety research.
In order to become an NSAC Regional Clinic, each clinic must have at least one psychotherapist serving as its representative who is certified in cognitive-behavioral therapy by the Academy of Cognitive and Behavioral Therapies, the American Board of Professional Psychology, or the Beck Institute for Cognitive Behavior Therapy. (Alternatively, that clinic representative must have completed part one of that certification process, and must then complete part two within one year of affiliating with NSAC.) That CBT-certified clinician must also be interviewed by the NSAC Board of Directors, which must then vote unanimously in order to approve the affiliation of a new Regional Clinic. The CBT-certified clinician serves as representative of the Regional Clinic on the NSAC Board of Directors, and must attend its quarterly online business meetings.
Regional Clinics (and all their clinical personnel) receive a number of benefits through affiliation with NSAC:
• they each have a page on our website about their clinic which shows up high in online searches on social anxiety;
• they may contribute to our monthly consumer blog on social anxiety;
• they may post information and publicity on our consumer Facebook page;
• they may contribute to our bimonthly research summaries and researcher interviews for the national CBT-related associations;
• they may attend our quarterly clinical education online meetings and our monthly peer consultation meetings;
• they receive a plaque, brochures and online notices publicizing their affiliation with NSAC; and
• they receive referrals from other NSAC members.
If you want to learn more about affiliating with NSAC as a Regional Clinic, please contact our Recruitment Coordinator, Holly Scott, LPC, at HollyScottPLLC@gmail.com.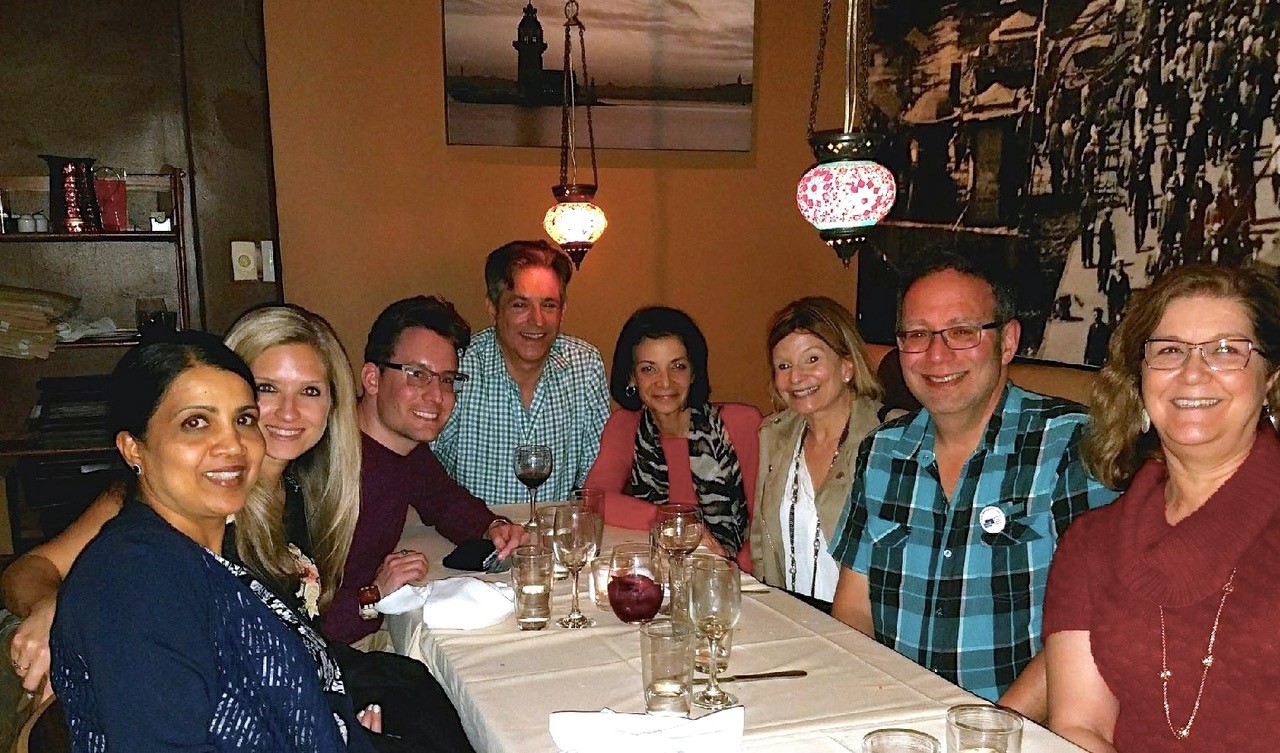 Some of the Board representatives of the National Social Anxiety Center's regional clinics joining for dinner during the Anxiety and Depression Association of America conference in Washington, DC, April, 2018. Left to right: Suma Chand, PhD (NSAC St. Louis); Lauren Neaman, PsyD (NSAC Chicago); Noah Clyman, LCSW-R (NSAC New York City); John Montopoli, LMFT, LPCC (NSAC San Francisco); Randy Weiss, LCSW (NSAC Phoenix); Holly Scott, LPC (NSAC Dallas); Larry Cohen, LICSW (NSAC District of Columbia); Celeste Conlon, PhD (NSAC Houston / Sugar Land).