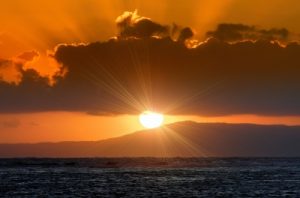 "I finally had the courage to do things I'd always hoped I'd be able to do."
As I write this, I am on a bus traveling from San José, Costa Rica, to Managua, Nicaragua. Lots of people travel to Nicaragua on vacation; although very poor, it's also a beautiful country. However, that is not the purpose of my trip. As per my Costa Rican tourist visa, I am required to leave Costa Rica every 90 days for at least 72 hours. This is the third time I've done this, as I have actually been living in Costa Rica for nine months.
For the past nine months, I have been teaching English at a school called Intercultura in Heredia, Costa Rica. I have been living in a house with two Brazilians, a French girl, and two other Americans. I have been dating a Costa Rican woman for 4 months. I've been improving my Spanish tremendously and, for the first time in my life, I'm actually doing well in–and enjoying–my job. I have hope that teaching English could be my career. I'm even cooking for myself.
How did all this happen? Well, it has a lot to do with the social anxiety classes that I took with Larry Cohen in DC, and the straight-forward cognitive-behavioral therapy I learned in these classes.
Five years ago, I discovered the term "social anxiety". I had been having difficulty relating to my friends and family members around my age. They were in successful relationships and some were having children. They had careers they were pursuing and, although they may not have been overjoyed in their jobs, they were making enough money to live independently. Meanwhile, I was single and feeling pretty lonely, had low self-confidence, was completely dependent on my parents, and had tremendous anxiety and ruminating thoughts about how much of a failure I believed I was. I felt like I was the black sheep of my family and friends. One day, I was researching "social anxiety" when I saw a Google ad for Social Anxiety Help. I clicked it, and shortly thereafter I was sitting on a couch in Larry's home office requesting a spot in his social anxiety therapy group.
The class was five months long. It was 180 degrees from the type of talk therapy I'd been used to, having been to my share of therapists for my clinically severe depression. In behavioral therapy, I was in complete control at all times. I decided how much progress I wanted to make between sessions, and from my group I received the support I needed when I excelled and when I faltered. By the end, I definitely saw a change in myself. But I wasn't yet where I wanted to be. I felt like I had more potential; so, I took the class a second time. By the end of my second "semester," I had internalized the methods: from mindfulness to restructuring my thoughts to expressing myself more openly and without judgment.
I finally had the courage to do things I'd always hoped I'd be able to do. I was approaching pretty women" and going out on dates. I was comfortable with friends again, and I was confident in new social situations, like parties. I had a new job, though it was very stressful. I was living in a house with three other people, about an hour from my parents' house. I was able to do these things: not because the anxiety had disappeared, but because I'd had so much practice with how to handle the anxiety.
But there was still a lot missing. I wasn't where I wanted to be. I just wasn't doing what I really wanted to do. Actually, I didn't even know what I wanted.
That's when I happened to read something that one of my friends had posted on Facebook. It said: "What do you love to do? And why aren't you doing it?"
Good question!
The one thing I'd always known I'd loved was Spanish. I decided I was going to improve my Spanish. How? By living in a Spanish-speaking country. To do that, I'd need a way to make a living while I was there. I took a course in DC on how to teach English. The course wasn't terrific, but it motivated me to take the next step: to take another teaching course in the country where I wanted to teach. For a variety of reasons, I chose Costa Rica. At the end of the program, they gave me a list of schools I should submit my resume to. Three weeks later, I was working at Intercultura.
The first semester at Intercultura was super-difficult for me. I was disorganized, not keeping up to date with my lesson plans, not bothering to put student attendance or grades into the database system, and just falling on my face a lot. Sometimes literally: one night I was walking home and there was a hole in the sidewalk that I didn't see and I fell right into it. Each semester, teachers at Intercultura are required to take a grammar test to ensure they're teaching the grammar correctly. I didn't show up to take the test! I had to reschedule. My second attempt at the test, I only did half of it! The director sat down to talk with me about all the challenges I'd been having. I told her I was scared. I didn't know why, but I was scared of doing things the right way, of taking responsibility for myself. She looked at me very sincerely and said, "I'm going to keep you on for another semester because the teaching is the most important thing, and the students like you. Do you think you can get everything else together next semester?" I said I could.
And I've done just that. This semester, my whole attitude has changed. I'm up to date with my attendance and grades; I'm working harder and with more creativity; and, I'm volunteering to help with a nonprofit English education program that Intercultura offers single mothers. One of the head teachers shook my hand and told me he'd noticed how much I'd improved.
If I've learned anything from this experience, it's that improvement–not perfection–must always be the goal. It was true in Larry's social anxiety groups, it's true at Intercultura, and it will continue to be true throughout the rest of my life. Larry always stressed this point in his classes, but for me things take time before they click in. And I'm okay with that.
Do you have a personal story of learning to overcome your social anxiety you wish to share?
If you are a former client of an NSAC-affiliated clinic or clinician, we welcome you to share your story if you believe doing so will be helpful for you. Sharing your story—or not doing so—will have no impact whatsoever on any future services you may seek from any NSAC-affiliated clinic or clinician.
You may put your story in writing, audio recording, or video. Discuss any of the following: how social anxiety affected your life; what you learned in therapy that was most helpful for you in lessening your social anxiety; how your life has changed as a result of your work.
NSAC reserves the right to decide which stories will be posted or not based on how helpful we believe they will be to other consumers. NSAC also reserves the right to edit for length and clarity, but we will get your approval on any changes before posting your story.  All stories will be posted anonymously. Once posted, you retain the right to have the story removed from our website at any time.
---
Photo by njaj.  freedigitalphotos.net